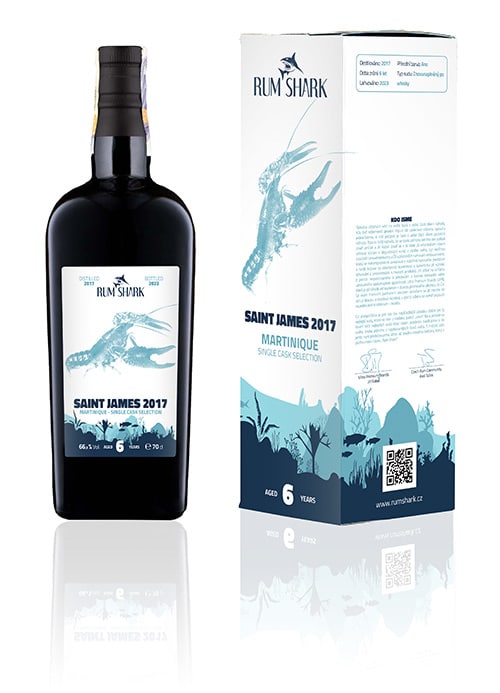 Saint James 2017
Martinique Single Cask Selection
Distilled: 2017
Age: 6 years (2 tropical, 4 continental)
Bottled: 2023
Natural Colors: Yes
Cask type: Refill whisky cask
ABV: 66.8 % (cask strength) – 247 bottles
It was back in 1686 when a monastic order of Merciful Brothers, at the request of the French king Louis XIV, opened a hospital Fort Saint-Pierre on Martinique. Almost a century later, in 1765, Father Edmond Lefébure established Trou Vaillant – a settlement for sugar production for the hospital's use. Alongside, they built a small distillery to produce Tafia (or Guildive), a simple unaged grandfather of today's rum. The possibility that sugarcane products would start to push aside the dominant position of wine industry resulted in the ban on rum distribution to France and French colonies. As a result of this ban, the monastic order had to sell their products in the English colonies of North America. To simplify pronunciation for English buyers, they renamed 'Trou Vaillant' to 'Saint James'.
In 1861, the settlement was privatised, and the upcoming era brought numerous changes to the rum industry, mainly due to the significant industrial advancements and technological changes. The old pots were replaced by modern and efficient continuous stills in many distilleries, and due to the Phylloxera epidemic, which devastated over 70% of all French vineyards, the rum industry experienced a substantial boom. By 1882, you could find over 190 distilleries on Martinique. However, as the 19th century progressed, rum prices dropped significantly due to sugar overproduction, leading to the closure of the majority of distilleries. Some were forced to start making rum directly from sugar cane, which marked the beginnings of 'Agricole' rum on Martinique."
At the end of the 19th century, Paulin Lambert, a merchant from Marseille, purchased several settlements on Martinique, including Trou Vaillant. On 21st August 1882, Lambert registered the 'Saint James' (Rhum des plantations de Saint-James) trademark and took control over all the production processes. In the same year, the old pot stills were replaced with new column stills. Lambert also designed a revolutionary new square bottle shape.
1885 was another milestone for Saint James as they launched their first 'Vintage' edition. The Lambert family owned Saint James until 1955. In 1973, Saint James was acquired by the Cointreau consortium and focused all production in the Sainte-Marie area, where they built a brand-new distillery. 1996 was a significant year for Martinique rum production as the island gained 'Rhum Agricole A.O.C Martinique' certification of geographical origin. In 2003 was Saint James brand bought by La Martiniquaise.
Today, Sainte-Marie is the largest producer of agricole rum on Martinique, with 90% of the used sugar cane coming from their own local plantations, which cover a total area of 250 hectares. Fermentation lasts about 36 hours in 24 stainless steel tanks with a capacity of 48,000 liters each. The distillery is equipped with 6 stainless steel distillation column stills of the Creole type. Distilled rum with an alcohol volume between 70-73% is transferred into large tanks to rest for 6 weeks. Aging takes place in 60 French oak tanks, each with a capacity of 33,000 litres, or in oak barrels (usually ex-bourbon) with a capacity of 220 litres. The rum rests in 15,000 of these barrels in warehouses with a total capacity of 8 million litres. Annually, the distillery itself produces about 4 million litres of rum with 55 % ABV, made from 40,000 tons of sugar cane.
As the old locals proudly claim: "All roads lead to rhum". And one of them led us straight to this remarkable single cask. Feel free to taste true agricole history.
FLAVOUR PROFILE
NOSE: Pepper, Grass, Vanilla, Polish, Wine Spirit, Wildflowers, Tropical Fruit, Citruses, Oily, Grapefruit
TASTE: Citruses, Burnt Oak, Dark Chocolate, Wine Spirit, Mineral, Grass, Wildflowers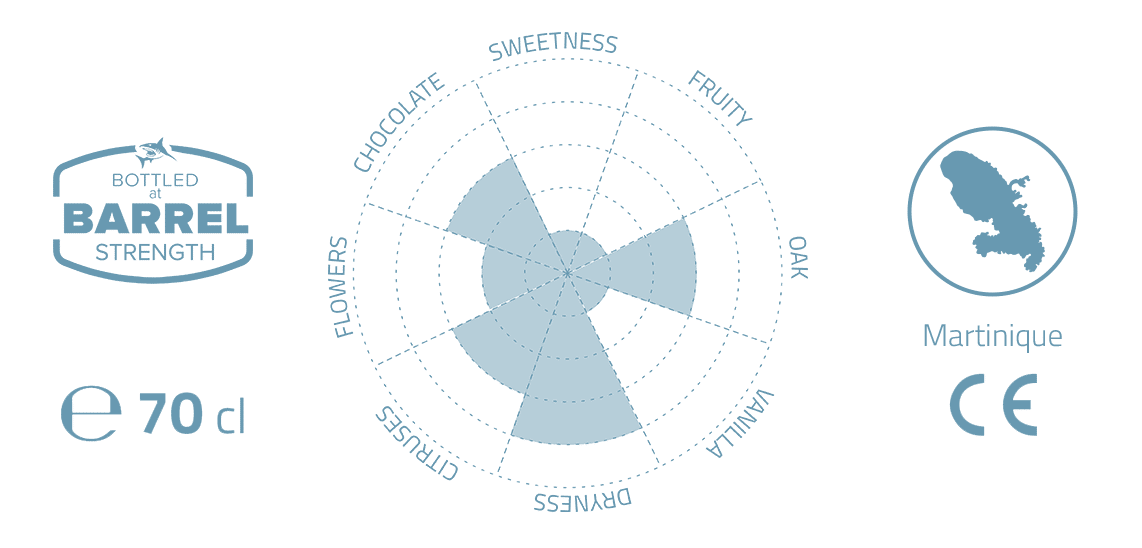 Copyright © RUM SHARK s.r.o., 2023. All rights reserved.