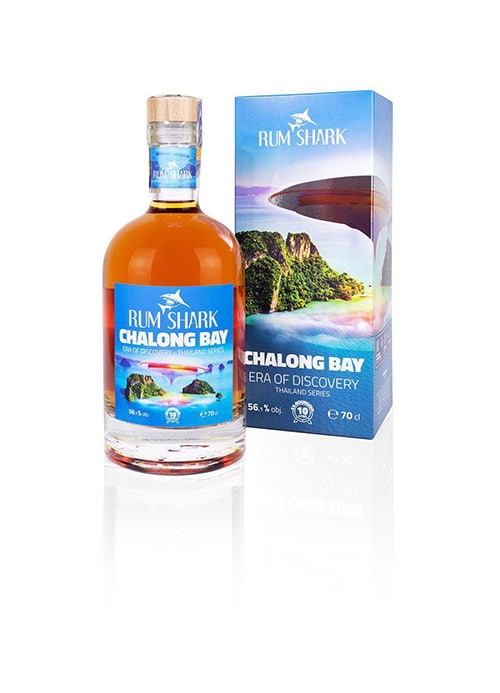 Chalong Bay 56.1 %
Thailand
Distilled: 2019
Cask aging: 17 months (continental)
Bottled: 2023
Natural color: Yes
Cask type: 10-liters ex-cognac
ABV: 56.1 % (cask strength)
The project "Era of Discovery" is representing a unique concept. In this series, we are introducing rums from various corners of the world. These rums are truly rare because of their extraordinary history, unique origins, or incredibly interesting character. We can promise you that with rums from this series, you are never going to be bored. Even for us it is going to be a journey full of surprises what remarkable rums this project will bring to the light. And we cannot wait to share them with you so we can enjoy them together.
And thanks to the next discovery of the Rum Shark team we would love to take you for a little trip to the mysterious place called Phuket. This Thai island set in the Andaman Sea is historically known for its importance as a trading spot between China and India. The ships anchored here in quiet docklands and waited for the Northeast monsoon that enabled them to continue their journey to India. The name Phuket originates from the Malaysian word "Bukit" which means "hill". Historically was also known as Junk Ceylon or Thalang. Nowadays is Phuket a well-known and popular tourist destination full of exotic beaches, holiday resorts, spectacular nightlife, delicious Thai food, and colourful sealife.
On the Southeast coast of the island lays Chalong Bay which means "Celebration Bay" in the Thai language, and since 2012 this place became the homeland of Chalong Bay Rum Distillery. This distillery takes pride in their artisan ways of rum creation. They use the juice from organic sugar cane grown sustainably and locally (using no pesticides). The rum is made in small batches in 800 liters copper pot still of "Alembic" type. This distillation pot was imported from France and the distillation process of one batch takes 24 hours.
For reaching the highest authenticity of this batch they used wild fermentation which is a process of natural fermentation. Large open vats were located outdoors directly at the sugar cane plantation during the fermentation process. After a long 7-day fermentation and further distillation was the newmake left at 73,12 % ABV to rest for another 20 months in a stainless steel tank. Afterward, the tank was transported to a famous and world well-known destination in the Armagnac area in France. Here in Château Lassalle Baqué the rum rested for another 4 months.
The rum was then diluted to 60 % ABV and stored to age in ex-Bourgoin cognac oak casks with volumes 10 and 50 liters. These casks were produced by bespoke cooperages Tonnellerie Navarre who crafts casks for spirit aging for three generations now. The advantage of small casks is the large wood ratio for the amount of alcohol inside which causes faster aging compare to the standard ex-bourbon barrels. Thanks to this unusual process you are invited to taste the unique combination of young Chalong Bay rum elevated with the elegance of Bourgoin cognac and the high quality of small craft oak casks.
Come and be part of our new adventure in a series "Era of Discovery". This time a rum with an unchained Thai heart tamed by a fine French nobility.
FLAVOUR PROFILE
NOSE: Cognac, Vanilla, Cream, Old Books, Nutmeg, Spice, Oak, Blood Orange, Flowers, Grass, Clove, Dried Apricots, Honey, Pepper
TASTE: Apricots, Vanilla, Cognac, Spice, Tannins, Oak, Dark Chocolate, Tropical Fruits, Honey, Pepper, Grass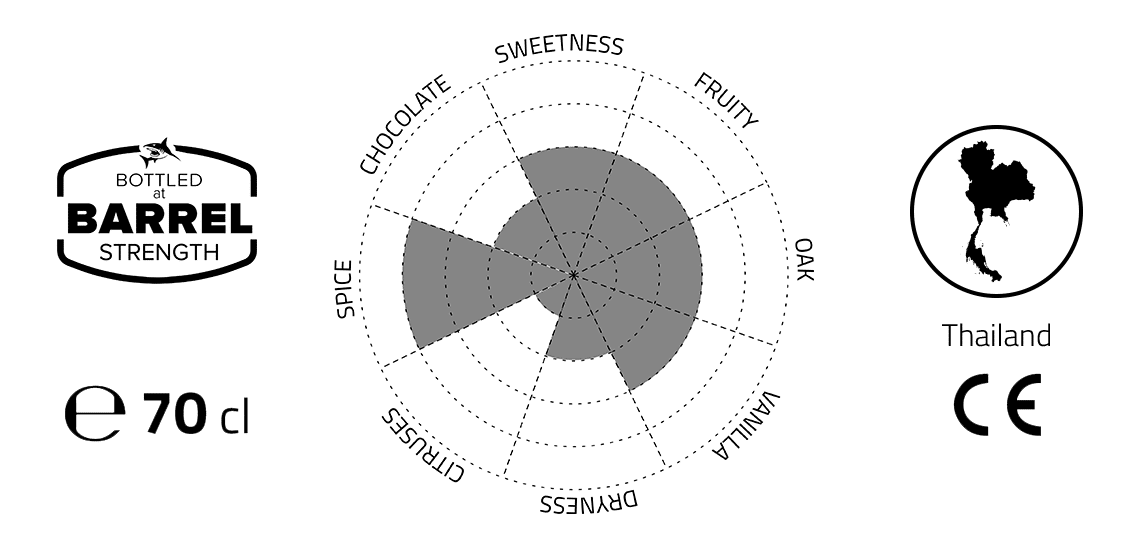 Copyright © RUM SHARK s.r.o., 2023. All rights reserved.