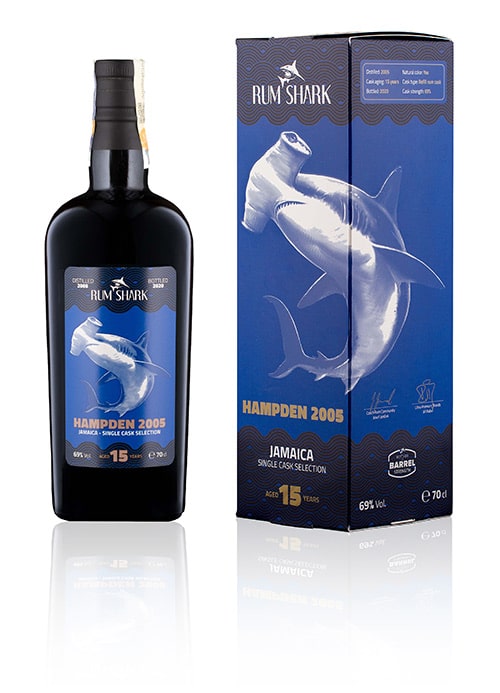 Hampden 2005
Jamaica Single Cask Selection
Distilled: 2005
Age: 15 years (13 tropical, 2 continental)
Bottled: 2020
Natural Colors: Yes
Cask type: Refill rum cask
ABV: 69.0 % (cask strength) – 276 bottles
Terroir. Not that often has this expression such a significant role in a final product like in the Hampden Estate Distillery. Unique and almost inimitable natural conditions so typical for this location co-create the characteristics of their rums that are inseparably connected with the expression called "Jamaican funk". The distillery is located in the lush valley called "Queen of Spain" in the Trelawny Parish area, northwest Jamaica, which is often called Grand Cru (highest quality grade) of Jamaican rums. The production process is a mystical symbiosis between the distillery and the nature that surrounds it and which in form of various living microorganisms covers most of the distillery surfaces as small mycelium particles and becomes an inseparable part of every single production step as well as the ageing process itself.
It was in 1753 when Archibald Sterling, the owner of the sugar plantation Hampden Estate, decided to build a sugar mill and distillery which started an important era for this unique rum. His production at the time was rather humble. However during the next few years, the demand for Hampden Estate rums rocketed and around 1767 it produced over 50.000 liters of rum a year, which was an impressive amount for its times. In 1779, Sterling decided to build Hampden Great House and use the ground floor as a warehouse. This warehouse was used until the beginning of the 20th century. In 2009 Jamaica Sugar Company sells the Hampden Estate to the Hussey family (as part of the Everglades Farms Ltd.) who with a great care and dedication renovates the old production and storage premises one by one and even expands the area of the distillery.
During those 300 years of its existence Hampden Estate has created five crucial principles in its rum production process which are considered to be the standing ground for its final product quality. Those five principles are:
Water is used only from a natural mountain stream, exactly the way it has been done back at the beginning of the 18th century.
Using natural (wild) yeast strains and longer fermentation time (8-15 days) which results in a higher content of esters (aroma and flavour particles) and also contributes to its unmistakable taste profile.
Hampden is one of the few distilleries using exclusively Pot still distillation. Currently Hampden has four distillation stills – John Dore from Great Britain (*1960), Vendome from Kentucky (*1994), Forsyth from Scotland (*2010), and T&T Engineering from South Africa (*2016). Its total capacity is almost 65.000 liters. One distillation cycle takes about 7 hours and rum is distilled at 82% ABV.
After the Hussey family took over, it has been decided that rum will be aged only in a tropical jamaican climate and mostly in 190-litre ex-bourbon barrels. The current capacity is at 2.700 barrels but is expected to increase due to a high demand. A new warehouse built in 2020 takes another 6.000 barrels.
No additives. Simple yet probably the most important principle of them all. The producer guarantees no artificial additives such as caramel, sugar, glycerin, etc. being added at any time. This secures the purity and authenticity of this unique rum.
Those five principles together with a unique Jamaican terroir and 300 years of heritage made it possible for you to hold this unique single cask bottling – a liquid chronicles of Jamaican history dating back to the 17th century.
FLAVOUR PROFILE
NOSE: Citruses, Vanilla, Banana, Exotic Fruit, Technical
TASTE: Oak, Vanilla, Pineapple, Banana, Citruses, Dark Chocolate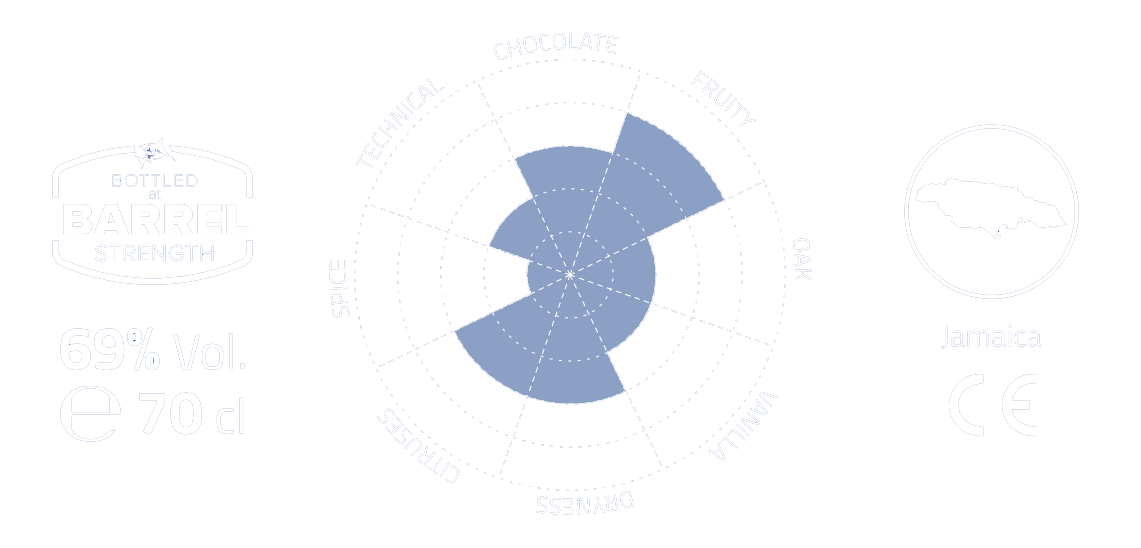 Copyright © RUM SHARK s.r.o., 2020. All rights reserved.