Clarendon 2014
Jamaica Single Cask Selection
Distilled: 2014
Age: 8 years (continental)
Bottled: 2022
Natural Colors: Yes
Cask type: Recycled rum cask
ABV: 65.6 % (cask strength) – 240 bottles
Jamaican distillery Clarendon was built in 1949 at Monymusk Estate near Lionel Town. The Monymusk Estate got its name in the 18th century after the Grant family of Monymusk from Aberdeenshire in Scotland. They gained this area in Jamaica as a dowry when Archibald Grant married Mary Callander, the daughter of the doctor James Callander from Jamaica in 1755. The Monymusk Estate remained the property of the Grant family until the beginning of the 19th century. The rumours say it has been gambled away. In the early 20th century was the Monymusk Estate bought by C.J. Ward to increase the production of his company J. Wray & Nephew. Lindo Brothers bought the company in 1916 and during the 20th century Monymusk Estate changed owners several times. In 1976 was Monymusk Estate as well as the Clarendon distillery bought by the Jamaican government through the National Rums of Jamaica (NRJ Group).
Since 2006, 73 % of the distillery belongs to the National Rums of Jamaica (NRJ Group, *1980) which is owned by West Indies Rum Distillery Ltd. from Barbados, Demerara Distillers Limited from Guyana, and the Jamaican government. The remaining 27 % belongs to Trelawny Estates Ltd. that is part of Diageo International. The distillery operates from January till August every year and produces around 12 million liters of pure alcohol during this time. The production is managed by 3 distillation stills. Two of them are pot stills with a capacity of 20.000 and 25.000 liters. And since 2010, ¾ of the whole rum production comes from the continuous distillation still with a capacity of 200.000 liters.
These stills produce two very different types of rums. The first type is a heavy rum with a high content of esters (flavour particles). The second type is a light rum with a low ester contain which is a result of the fast fermentation in stainless steel tanks lasting 1 – 2 days. Fermentation of the heavy rums takes up to four weeks. First in wooden fermentation vessel up to two weeks. Then, the fermented mash is moved into the stainless steel tanks where molasses is added and the fermentation process continues again for about another two weeks. After the distillation these rums are blended, then diluted to 70% ABV and put into the oak barrels to rest. All barrels are stored in the warehouses of non-functional distillery Innswood in Jamaica.
Even though Diageo uses up to 90 % of Clarendon production for its products such as Captain Morgan, Myers, etc. The remaining 10 % is still enough to be put for ageing to become Monymusk rum or for independent bottling of Clarendon rum proudly introduced to you in this unique Single Cask. We make no compromise when it comes to such rare gems.
Rum in this bottle was shaped to the perfection by just 3 simple things… tameless Jamaican climate, charismatic oak barrels and unstoppable time. After ageing many long years in the Caribbean, we bottled this jewel for you. Now you have a wonderful opportunity to taste Jamaican nature, tradition and funk at its purest.
FLAVOUR PROFILE
NOSE: Technical, Jamaican Funk, Pineapple, Polish, Banana, Honey, Citruses, Exotic Spice, Mineral, Wax, Wildflowers
TASTE: Tropical Fruit, Jamaican Funk, Citruses, Dark Chocolate, Burnt Oak, Spruce Needles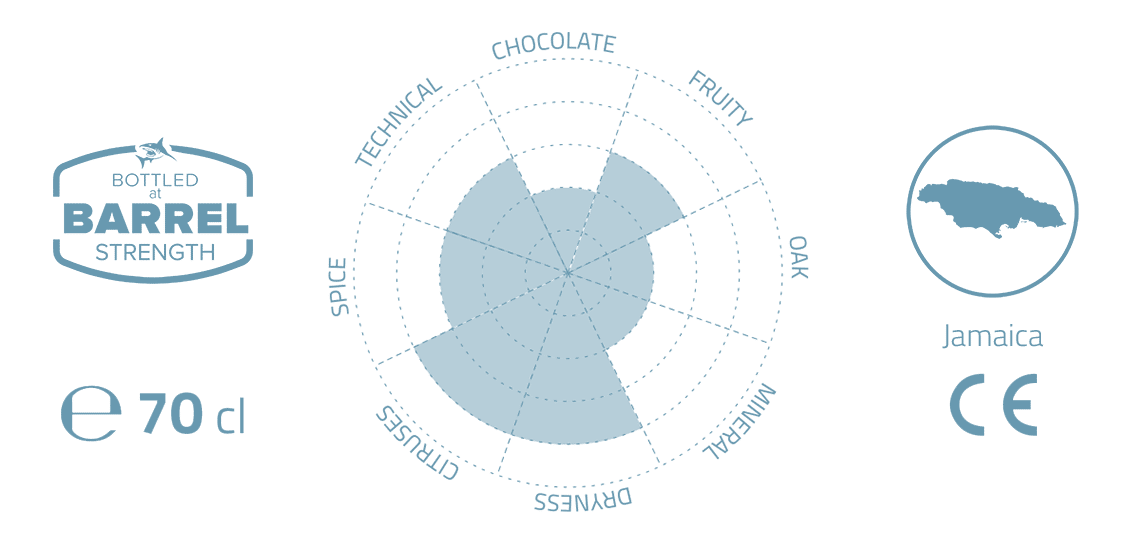 Copyright © RUM SHARK s.r.o., 2022. All rights reserved.